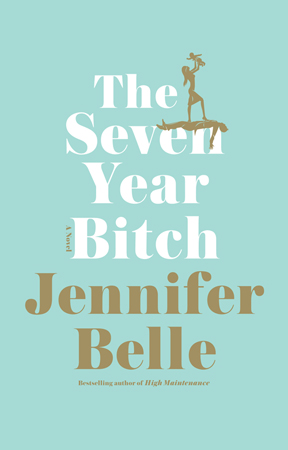 Released
: May 2010
The Seven-Year Bitch
is the fifth novel by one of my favorite all-time authors,
Jennifer Belle
. I fell in love with
Jennifer Belle
while reading
High Maintenance
after its release in 2001 and that particular novel still resides in my permanent collection. It bothers me that Belle is not more widely known because her writing is absolutely brilliant, witty, and hilarious -- more so than novels by
MaryJanice Davidson
,
Charlaine Harris
, or whoever else is considered funny these days by the mass public in the chick-lit sub-genre. If you're a fan of chick-lit, you must add
Jennifer Belle
novels to your wish list immediately!
The Seven-Year Bitch
features 30-something character Isolde (Izzy) Brilliant, who has just had her first son and learns to juggle her career, mommy-hood, and marriage without losing her identity and charismatic, eccentric personality in the process.
This novel is nothing but pure FUN! There are many genuine laugh-out-loud moments; seasoned readers are definitely in for a treat because this novel is extremely original and random. What makes
Jennifer Belle
an entertaining author is her incredible sense of humor. I love her tangents into Izzy's sexual obsession with the Grim Reaper (what?!) and her rants on how sissy and baby-ish her husband Russell is. She also points out how annoying it can be when rich people (especially potential love-affair interest Gabe Weinrib) will consistently say "my treat" when of course his picking up the tab is always a given.
Another reason I love
The Seven-Year Bitch
is because Belle accentuates the fact that not ALL women lose their identities, spunk, sexual appetite and finesse after they become mothers and wives. Being a 30-ish, divorced, single mother myself, I really hate how women tend to let themselves fall into the sweatpants, boy-haircuts, obesity and bland mommyhood-lives that seem so prevalent these days. Kudos to
Jennifer Belle
and her bright wit!
Overall, although I am truly starting to hate "Chick-Lit" as a sub-category of literature, I'm not so sure a man is going to get the same kick out of
The Seven-Year Bitch
as a woman will. This book is fabulous!
As I previously mentioned, definitely hunt down
High Maintenance
(2001). Other novels by
Jennifer Belle
include
Going Down
(1996) and
Little Stalker
(2007).